Caz Walker and I like Umbilicaria spp and other montane lichens, so looking for the only English record of U. hyperborea on Cross Fell in the Pennines was a challenge we couldn't resist. Two problems: (1) there were no accurate grid references and (2) it is a long walk in so there might not be much time available for searching.  OK and (3) the weather: the species up there are called arctic-alpine for good reason.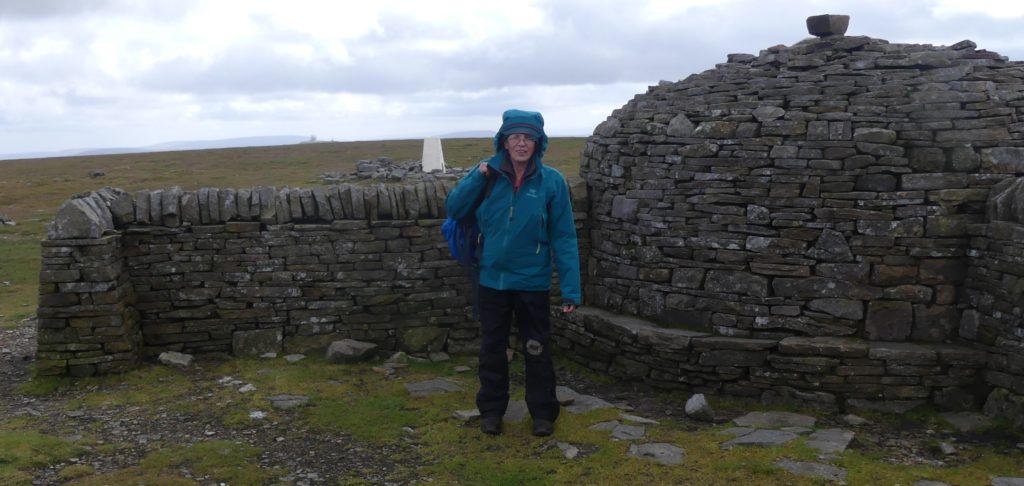 The British Lichen Society database has just one entry for Cumbria for Umbilicaria hyperborea, dated 27/7/1979  on a BLS field trip, with a hectad grid reference NY63 giving us 10km x 10km to search! The record gives the location as "Cross Fell" with the notes saying "on tops of several boulders in sheltered enclave on the N side; an area of late snow-lie".  Narrows it down a bit.  This was echoed in the field trip report in the Lichenologist: "In a slightly sheltered enclave on the N side where the snow often lies into June, U. hyperborea was seen in its only English locality, on tops of several boulders."  It also references an earlier article by Rod Corner announcing the original discovery on 6/7/77 where it was "Seen in at least two areas of discontinuous scree", adding that "Cetrariella commixta , a rare montane species in England, was an associated species."
OK, not much to go on, but definitely a help.  Cross Fell and the other hills nearby are a layer cake with harder sandstone rocks outcropping at the edge of the summit plateau interspersed with mudstone and limestone layers lower down. A look at the Ordnance Survey map shows that the area called "The Screes" to the north-east of the summit shelter looks like where to look.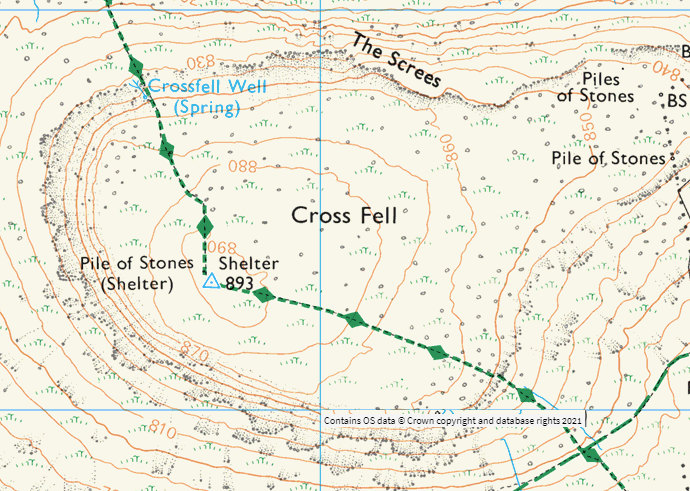 On our previous trip, we'd slogged up from the Eden valley to Little Dun Fell: a long walk in and out. We got permission from Natural England to reduce the walk in from the Great Dun Fell side – whew!
The day we chose to go, it was due to clear up at lunch time.  It was August, but we set off in the cloud with virtually all our winter gear on amid occasional showers driven by a strong wind. At the top of Great Dun Fell, it was still very misty so we couldn't see the big golf ball when we walked past 25m away!
Despite poor visibility, we soon found nice lichens on Great Dun Fell in the low heath near the track of the Pennine Way including several small patches of Cetraria islandica. These were not seen on Little Dun Fell, though we knew from our previous trip that the rocks just north of the summit held some great saxicolous species.
When we got onto the Cross Fell plateau Cetraria islandica appeared again, along with Fuscidea lygaea and Myriospora smaragdula on rocks. The weather started to clear as we hunkered down out of the wind at the summit shelter for a first lunch and a hot drink.  We headed over to The Screes on the north side of the plateau and saw a dauntingly huge area of large boulders stretching into the distance, many with an orange covering of algae.
We started looking for vague recesses where snow might lie.  Things started to hot up: we started finding some Umbilicaria spp including quite a green looking U. deusta. And then Caz hit the jackpot, finding what looked like U. hyperborea. There were two thalli on one boulder and I soon spotted another couple on another boulder nearby.
Umbilicaria species are often identified on morphological features, rather than chemical tests or spores, and are usually found in prominent sites on top of boulders or outcrops.  They all have a central holdfast on each thallus. Looking at the upper and lower surface carefully is required, noting whether there are marginal fibrils.  In this case, there were quite a few gyrose fruit but no idisia, soredia, granules or fibrils. The dark brown upper surface had small sinuous folds except at the edges, with one or two new lobes appearing less lumpy. The margins were lacerate. Wetting the lobes we carefully looked underneath: it was uniformly brown with no rhizinomorphs and no thalloconidia.  It looked spot on!  Success!  We took a very small sample in case any confirmation is needed.  According to the ViewRanger app on my phone we were at just under 850m above sea level.
The alternative candidates include U. cylindrica which has abundant marginal fibrils.  U. proboscidea has ridges around the centre of the upper surface, not small folds; it's not lacerate at the margin.  U. torrefacta has a lower surface with fibrous strands (trabeculae/lamellae).  The rarer U. nylanderiana has a black lower surface with single-celled thalloconidia present.
On the same boulders were a few Melanelia hepatizon and several Cetrariella commixta – splendid. Soon afterwards, Caz found another arctic-alpine specialist Allantoparmelia alpicola along with Parmeliopsis ambigua which we'd seen on Little Dun Fell.  There was also the bobbly version of Stereocaulon vesuvianum ie var. nodulosum.  We also spotted a bright yellow Rhizocarpon – it would be great if this were montane specialist R. alpicola. However later dissection showed it to be R. lecanorinum.  R. alpicola has 1-septate spores, while in R. lecanorinum they are muriform. The literature describes the spores as brown; ours were clearly green as found in other photos online.
We also found Ionaspis lacustris on some exposed rocks, not near water, where it is usually found. We're guessing that the atmosphere is usually very damp here; indeed quite a few lichens were very swollen.  On the way back we saw Ochrolechia frigida on Cross Fell and Lichenomphalia umbellifera on Little and Great Dun Fell.
We were lucky: we only scratched the surface of the Cross Fell scree area. There's a huge number more boulders to explore.  We didn't find Frutidella caesioatra which was described as being on Cross Fell at "the same site, found on a sheltered ledge formed by the juxtaposition of two boulders". This'll be much harder to spot – fancy joining us to have a look? 
Chris Cant
Coppins & Gilbert (1981). Field Meeting near Penrith. Lichenologist 13(2): p193
Corner (1978). Umbilicaria hyperborea discovered in England. Lichenologist 10: p134