The group organises outdoor meets to find lichens and bryophytes and indoor informal identification sessions. Please let us know if you intend to come on one of the meets listed here.
Each outdoor meet usually has a trip leader who will have done a risk assessment in advance. We have basic public liability insurance cover from the British Lichen Society, but this does not cover personal accidents. We usually split into lichen and bryophyte groups, each with their own leader. Please take care of yourself when out and about – and don't damage the environment you are exploring. We will try to obtain permission from the landowner in advance to collect minimal specimens for identification purposes. We will usually write a trip report and submit records to the BLS and BBS.
The indoor meets are at the Cumbria Wildlife Trust meeting rooms: Plumgarths near Kendal and Gosling Syke near Carlisle. Thanks very much for the free use of the premises. We should have dissecting and compound microscopes available at these sessions. Free parking.
COVID-19. Do not come if you have Covid symptoms or have been told to self-isolate. Read the British Lichen Society Covid-19 Risk Assessment and adhere to the described precautions. You will need to sign in and give an emergency contact name and phone number. Do not share equipment.
2022
Date
Location
Leader
Trip report
Thursday 20th January 2022, 9:30am
Thorneythwaite, Borrowdale. Parking along the track to Thorneythwaite Farm, NY24951349, with an honesty box, so please bring cash.
Pete Martin, 07816686166
Thorneythwaite Trip report
Sunday 13th February 2022, 9:30am
CANCELLED
Burnbanks, Haweswater

Some free parking spaces at Burnbanks NY508160 with an honesty box. Roadside parking before that.

SSSI designation
Caz Walker, 01931 713240
Wednesday 2nd March, 6:30pm
AGM Zoom
Friday March 18th, 2022, 9:30am
Brantwood, Coniston. Free parking at Brantwood, SD311957
Kerry Milligan
Brantwood Trip report
Sunday 20th March, 2022, 10am - 4pm
Indoor id session at Plumgarths near Kendal LA8 8LX
Please email us if you are planning to come.
Saturday 16th April 2022, 10am - 4pm
Indoor id session at Gosling Sike near Carlisle CA3 0LD
Please email us if you are planning to come.
Sunday 24th April, 2022, 9:30am
Blea Tarn, Haweswater. Free parking at Mardale Head NY469107. Looking around tarn if weather permits, or ghylls and rock faces lower down.
Clare Shaw
Thursday 19th May 2022
Helbeck Wood near Brough
Ivan and Pete
Helbeck trip report
Sunday 12th June, 9:30am
Humphrey Head near Grange-over-Sands
Pete Bullard. SSSI citation
Thursday 14th July, 9:30am
Wolf Crag parking near Dockray NY379219
Clare Shaw
Wolf crag trip report
Sunday 14th August, 9:30am
Sunbiggin Tarn between Orton and Little Asby.

For lichenologists, this is a Frank Dobson commemoration event
David Freeman
Wednesday, 21st September, 9:30am
Bowscale Fell and Tarn - meet at Mungrisdale Village Hall NY364302
Chris Cant
Sunday 16th October, 9:30am
Scales Wood, Buttermere
Caz Walker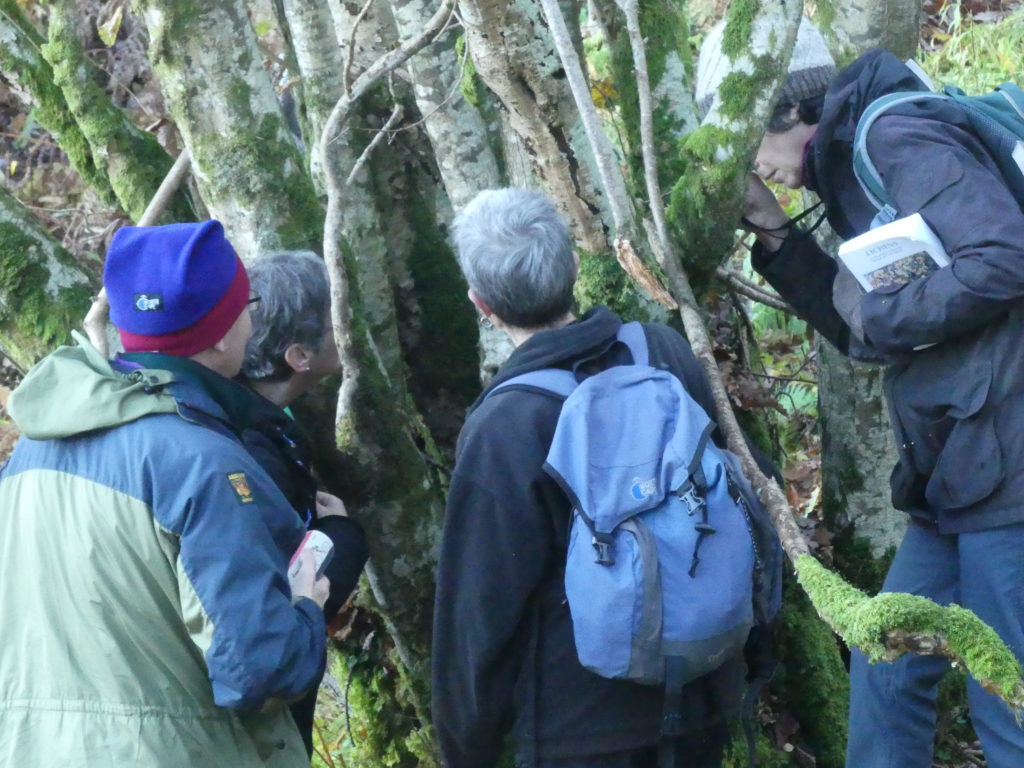 2021
Date
Location
Leader
Trip report
Tuesday 25th May 2021, 9:30am
Smardale
Clare Shaw
Smardale Trip report
Saturday 12th June 2021, 9:30am
Roudsea Woods
David Freeman
Roudsea Trip report
Thursday 22nd July 2021, 9:30am
Carrock Fell. Meet at NY353337 Map. CRoW Access land.

Carrock Fell is in the Skiddaw Group SSSI.

Lichen group is heading for the top which is partly a Scheduled Monument hillfort.
There should be lots of bryophyte interest eg on the lower slopes.
Chris Cant, 01931 713240
Carrock Fell Trip report
POSTPONED TO TUESDAY 24/8/21, 9AM.

Sat August 21st 2021, 9am
Kirkstone Pass. Probably heading towards Raven Crag below Red Screes.

We would be mainly off the path on sloping, occasionally steep, but not precipitous ground.
Caz Walker, 01931 713240
Kirkstone Pass Trip report
Weds 15th September 2021, 9:30am
Stennerskeugh/Fell End Clouds south of Ravenstonedale, meet at NY733005 Map

This is in The Clouds SSSI: limestone pavement, with acid and calcareous grasslands, small areas of flush, pot holes and old mine workings.
Pete Martin, 07816686166
Fell End Clouds Trip report
Sun 17th October 2021, 9:00am
Coniston Mines and Quarries, meet at SD3004097916 Map
David Freeman
Coniston Coppermines trip report
Thurs 18th November 2021, 9:30am
Glencoyne, Ullswater. Meet NY386188- Glencoyne Bay car park - charges apply.
Kerry Milligan
Glencoyne trip report
Sat 18 December 2021, 9:30am
Great How, Thirlmere

Thirlmere Woods SSSI designation

Meet at Legburthwaite car park, NY 31812 19510 which is probably free
Clare Shaw
Great How trip report